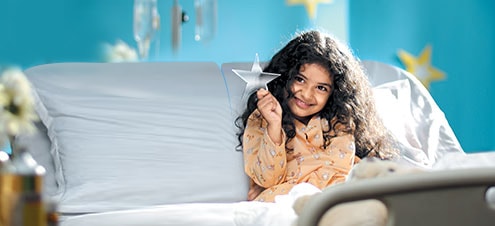 Star Health Insurance offers a remarkable variety of policies that look after an individual's financial conditions during a medical adversity. It provides policies at reasonable rates considering the rising costs of the medical bills. These policies range from schemes for an individual to family floaters and senior citizens.
Buy Star Health Insurance online is known for its fast and hassle-free claim settlement process. It does not require the involvement of a Third-Party Administrator. There are a number of customer care services available for the customers. The company offers cashless hospitalization and there are experts available round the clock to provide free medical consultation.  A renewal notice is received by the policyholders, 15 days before the expiration of the Star Health Insurance policy. The grievances of the customers are resolved within 15 days of receipt.
Star Health Insurance has gained the trust of people through its comprehensive range of health-care products which cater to the needs of all individuals and groups. It has won numerous awards for its services. They are:
'Best Health Insurance Company of the Year 2017′ by CMO Asia.
'W.H.O Award of Excellence, 2017′.
'Best Health Insurance Provider of the Year' at the Business Today, Money Today Financial Awards 2016-2017.
'Claims Service Company of the Year, 2014′ at the Indian Insurance Award.
'Best Claim Settlement Insurer' in Hindustan MaRS Survey.
How Much Should You Invest In Star Health Insurance?
There is no specific amount that is fixed for everyone. The amount of investment in the health insurance would depend on individual needs which would be different for each person. Provided below are a few guidelines from the broader view that will help to decide on the amount of health insurance to be invested in Star Health Insurance.
Consider the needs and situations.
For whom is the coverage to be bought? It can be for an individual or for the family. In the case of self, choose the individual basis and for family, choose the floater basis.
What is the current health situation of the family members who are supposed to be covered?
If the family history of any disease is positive then you may have to opt for a critical illness rider.
The place of residence should be considered because the health-care costs vary from place to place.
How much you can afford or what is your budget to invest in Star Health Insurance?
Considering all these factors, a person residing in a metropolitan city and desiring to cover the entire family including parents, can choose a family floater cover. He will have to put in 10 lakhs as the sum insured. An individual needs to decide if the amount is affordable. It is important to keep a reasonable sum insured. If such a person opts for a low sum insured, say INR 2 lakhs; then it would be quite an unwise proposition. The individual and the family will not be fully protected by such a low insured sum.
These points can broadly assist a buyer to choose … READ MORE ...