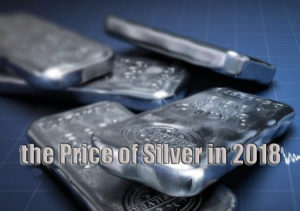 The price of silver is always changing, which is why it's such a popular investment. Some years it enjoys a rise in price, while other see it falling. In 2017, the price hovered between the $15 and $18 mark for an ounce. This wasn't a surprise for many experts, but it was hoped the increase would have been bigger.
Does that mean the price is set for a rise in 2018? It certainly looked that way at the beginning of the year when the highest price was $17.37. At the time of writing, it had dropped slightly by a little less than a dollar. Certain factors are going to affect the performance of silver over the next few months. Let's look at what these are before sharing some expert opinions.
Three Factors That Could Affect Silver Prices in 2018
Geopolitical issues – these affect the price of precious metals in a big way. Around the world, all eyes are on Trump. When he won the election almost two years ago it was thought that the demand for precious metals would increase. This would in turn increase the price of both gold and silver. The instability that Trump has fuelled has so far failed to result in high prices for silver. What 2018 has in store is still uncertain, especially regarding Trump and relationships with North Korea.
Interest rates – also have a big effect on the price of assets such as gold and silver. Low interest rates result in a better performance of precious metals. 2017 saw a number of interest rate rises but gold prices rose. Silver on the other hand remained much the same. The number of rate changes planned for 2018 is currently unknown, but it is expected that they will continue to rise. It is …
Read More