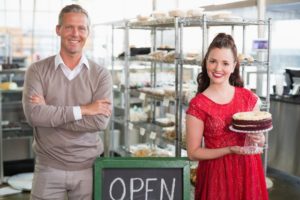 Entrepreneurs understand what it takes to construct a business out of nothing. The over clocking hours, dedication, persistence, leadership, intuitiveness, mental and physical strain that go into creating a business makes it all worth it when the business is up & running. A successful business ( mississauga seo ) is all the reward that the proprietorship owner needs, no matter how small scale the business is.
A small scale business can vary drastically in nature. You might be an ornament maker, baker or programmer. Once you set up a working business operational system, the next step is to protect your business, secure it and legitimise it. You must take steps to legitimise the business, in order to launch it officially. Let's take a look at some steps that small scale business owners can take to take their business to the next level.
1.      Assigning a business trademark name: A trademark serves as a business's valuable property asset and represents the company's reputation and integrity. Your customers associate your goods with the trademark name. Additionally, trademarks are one of the first things that people search when they're looking for a particular company. Trademarks also play their role in making a particular company distinct from its competitors due to its uniqueness. Two companies cannot share the same trademark name which is why it is important that you have your business incorporation's selected trade name run through the secretary of state's office, in order to make sure that the trademark you have selected is available for use.
2.      Choose the right business structure: Incorporating your business not only legitimises it in the eyes of the state government, customers and competitors but can also protect the business owner from personal liability. You can choose from different business structures such as, Limited Liability Company and S Corporation. In a nutshell, the Limited Liability Company separates the owner's personal assets from the company's actions and debts. Business owners with security along with minimum paperwork at the top of their priority list usually go for this option.
An S corporation on the other hand, includes a haul of paperwork that must be processed from the company and requires a certain level of comfort with administrative formalities from the owner's end. The S corporation is also particularly beneficial for small family businesses because it eliminates the double taxation that conventional corporations have to typically handle. Consult experts to pick the right structure for your business incorporation.
3.      Acquire a tax ID: A tax ID is issued to your business by the Internal Revenue Service and makes your business more professional. The tax ID is like a social security number for your business and can be used to open a bank account under company name along with regulating the company's payroll. If your business is a partnership, multi members LLC, single member LLC, LLC taxed as a corporation and proprietorship with employees, you need to get yourself a tax ID number.
4.     Appoint a registered agent: A registered agent serves is responsible for receiving and handling all the legal and administrative paperwork issued from the state concerning your business. The agent represents your business and carries out tax-related correspondence. Appointing a registered agent ensures that all your taxes are filed in a timely manner.